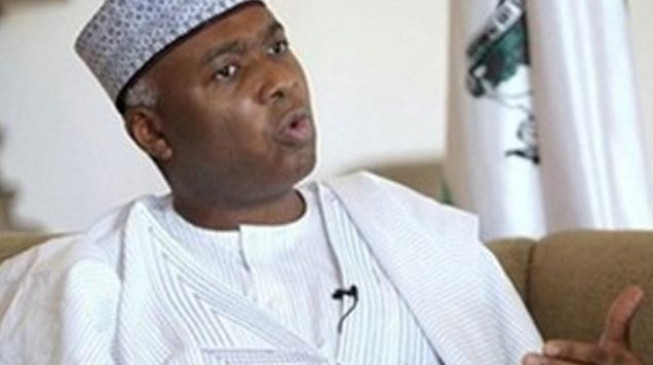 Bukola Saraki, president of the Nigerian senate, says he has not met with former President Goodluck Jonathan since he left the Peoples Democratic Party (PDP).
Denying reports that Jonathan bribed him to tamper with ongoing investigations into funds which were not remitted into the federation account, Saraki alleged that some individuals were sponsoring a campaign of falsehood against him.
He said he remains committed to ensuring that Nigeria recovers money that have been unaccounted for in the last few years.
"Attention of the senate president's media office has been drawn to a malicious fabrication aimed at tarnishing the reputation of the senate president," read a statement issued on Saraki's behalf by Bamikole Omishore, his spokesman.
"It is evident that Senator Saraki' commitment to see that the missing funds are found and paid back into the federation account was never in doubt from day one. It would be recalled that Senator Saraki during this investigation had gone out of his way to collaborate with the IHS Information Analytics Expertise and MJHC Limited London two renowned international organisations with specialty on oil financials to do further forensic review on this matter also underscore the length at which he left no stone unturned to help the committee unravel the mystery surrounding the missing funds.
"Also, Sen. Saraki never met with Jonathan on this report (committee met last on the 16th of February 2014). So the thought of Senator Saraki working to bring down the number or amount unremitted with Goodluck Jonathan is completely false.
"For the avoidance of doubt, there has been no meeting of any type between Senator Saraki and former president Jonathan since the Senator left PDP. So any suggestion that ex-president Jonathan sent Chagoury to Senator Saraki with gifts/money to seek support from him on the report is totally false. Both the Sarakis and Chagourys have been family friends for over 26 years.
"The media office of the senate president hereby uses this opportunity to put it on record that the posts are completely false with no iota of truth whatsoever."